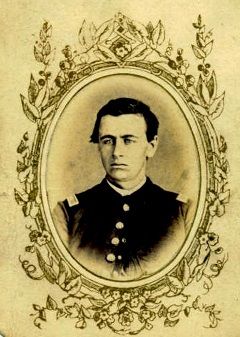 CAPTAIN DAVID AYERS
Born April 29, 1841 in Kalida to Isaac & Eliza Ayers,he enlisted in the 57th  Regiment Company A Sept 2, 1861 at the age of 20. He was appointed Sergeant & then promoted to 2nd Lieutenant Company D Feb 3, 1863. He was promoted to 1st Lieutenant August 16, 1864. He was then discharged from the 57th Regiment January 4, 1865 but was re-commissioned into Company D on April 15, 1865 and promoted to Captain August 10, 1865. He was not mustered into that rank before being mustered out of service August 14, 1865 in Little Rock, Arkansas.

He was awarded his medal of honor August 13, 1894. 150 men were called to volunteer for a storming party to make a "forlorn hope" diversionary charge on the Confederate position known as the Stockade Redan on May 22, 1863. David Ayers,  a Sergeant at that time,  volunteered for the charge that was to draw fire away from from the real planned attack.  As no one was expected to return, only unmarried men were accepted. They charged in plain view of the Confederates, those that made it through the fire remained in a ravine under the Redan until nightfall, when they returned to Union lines. Survivors of this storming party were awarded the Medal of Honor. His citation reads: Sergeant David Ayers : Gallantry in the charge of the "volunteer storming party.".

He died December 11, 1916 in Chicago Illinois where he is buried in Oak Woods Cemetery.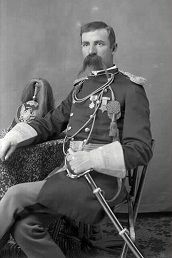 BRIGADIER GENERAL EDWARD SETTLE GODFREY
Born October 9, 1843 in Kalida to Dr Charles Moore & Mary (Chambers) Godfrey.

Against his father wishes he enlisted in the military along with 12 of his cousins & his uncle. He served as a Private in  the 21st Regiemnt Co D, April 26, 1861-August 12, 1861, at 18,  after which he returned to Putnam County and obtained his teaching certificate, and taught briefly. He was appointed to West Point and entered as a cadet in July 1863 and in 1867 graduated with honors from the national military academy. He was commissioned 2nd Lieutenant to the newly activated 7th Cavalry, then stationed at Fort Harker, Kansas, 1867.He was commissioned as a 1st Lieutenant in 1868 and participated in the famous battle of Washita. In 1869 he married Mary J Pocock and was ordered south to the states of the late Confederacy to attend the "Ku Klux trouble".

From September 1874 - April 1876 he was on duty in the Southern Department of the Division of Missouri in connection to the White League troubles. After this he was ordered back to the Dakota Territories and commissioned as a Captain & assigned to the command of Company D. The next year he participated in the Battle of Snake Creek in the Bear Paw Mountainsand was severely wounded. For "most distinguished gallantry" he was brevetted Major and awarded his Congressional Medal of Honor. He recoved from his wounds in 1878, and in the next decade he served as: an instructor in cavalry tactics at West Point, inspector of Indian supplies at Fort Yates and Tactical Board devising a new system of drill regulations.

In 1896 he was commissioned a Major and located in Arizona & New Mexico still with the 7th Cavalry. Following his service in Cuba he was made Lieutenant Colonel of the 12th Calvary in February 1901 and by June promoted to Colonel of the 9th Cavalry, a colored regiment, and sent to the Philippines, returning a year later. He retired in October 1907 having served as Brigadier General commanding the Department of the Missouri.

Along with his military service he also was a member of the first government expidition to YellowstonePark, first US army commander to make a field test of an army emergency ration, established Army Cooking & Baking School, introducing "Cossack" & "Rough Riding" excercises into the cavalry training program. He was honored by being placed in command of the Legion of Honor section on the occassion of the burial of the Unknown Soldier. At the time of his death, April 1,1932, was the oldest graduate of the Military Academy and the only surviving officer of the Little Big Horn campaign. He is buried at Arlington National Cemetery.